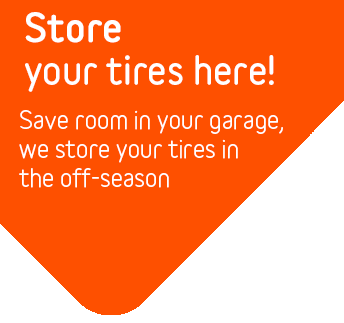 When it's time for new tires, we've got you covered. We are a discounted all-season and winter tires store in Toronto. With access to all brands of tires, we'll help you find your perfect tires. Just provide us with your vehicle information and we can suggest a few options for you that will suit your driving needs and your budget.
At our CarHub Tire Store we have a full range of brand name tires, including Goodyear, Bridgestone, Continental, Pirelli, Firestone, Uniroyal, Dunlop, BF Goodrich, Michelin, General Tire and more.
Not sure if you need new tires yet?  Just ask and our tire experts will assess the condition of your vehicle's tires and let you know if it's advisable to replace them at this time or whether they are still in good shape.  We will also help you find the perfect tires at the best price possible.


Remember, when the temperature dips below 7°Celsius, your all-season tires turn into hockey pucks! For more information on why that happens, check out our blog post When and Why Should I Switch to Winter Tires. It's also not a great idea to keep those winter tires on too long. If you still have winter tires on your car in warmer weather, that will cause a lot more wear on the tires shortening their lifetime.
Book your reservation below to change your tires. We can store your off-season tires.
Call us at (888) 516-3796 or fill out this form.
Book your reservation now!