North York Chrysler Service Center in Thornhill ON
Posted on January 27, 2020
As your car service center in Thornhill, North York Chrysler Dodge Jeep Ram service department is here to serve your needs. We offer a full array of services, including the popular Mopar Express Lane, so you keep your vehicle in top shape.
Mopar Express Lane
Waiting for what seems like forever to have your vehicle maintenance performed is anything but ideal. That's why we offer the exclusive Mopar Express Lane. Just like the name implies, using this service means your vehicle is in and out of the service department in a hurry. Forget about getting too comfortable in our waiting area, because we'll have you on your way in no time. In fact, we do all that's possible to have you back on the road within 30 minutes, because your time is valuable.
Come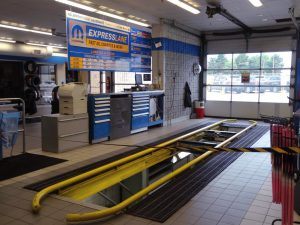 to the Mopar Express Lane for an oil change, quick check-ups on your vehicle's health, or a simple installation job. You don't need to make an appointment, so come by when it's convenient for your schedule.
Even when you come in for just an oil change, we do so much more in no time at all. Our technicians will also check to see if there are any recalls for your vehicle.  They can do a brake inspection and rotate your tires, conduct a multi-point checkup, replace your wiper blades, do a battery test and more.  It's just another way we watch out for your safety, keep your vehicle running reliably, and ensure it keeps operating correctly month after month.

Peace of Mind Vehicle Inspection
At the start of the season, enjoy the benefits of our Peace of Mind Vehicle Inspection. What this inspection does is ensures all the basics for your car are in order, focusing most importantly on your safety while traveling. Having something fail on a long stretch of highway, causing you to be in an accident or be stranded is no way to live.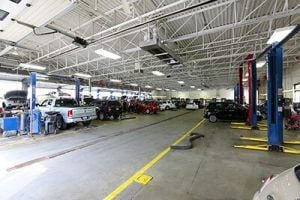 The Peace of Mind Vehicle Inspection covers an array of vehicle systems. We inspect the front and rear brakes, both the heating and cooling systems, vehicle battery, check the exhaust system, perform an oil change, top-up any low fluids, perform a road test, and inspect the defrosters as well as the wipers.
If you've bought or are thinking of buying a vehicle that's been owned by someone else, this service is perfect. We thoroughly check all the mechanics of the vehicle, ensuring they're all in good working condition.
For details on these inspections, speak with our friendly service staff.
Check 'n Go Service
Regular maintenance checkups are recommended every 6 months, but at CarHub North York Chrysler we do extra Check 'n Go service inspections halfway through the cycle, just to be sure there aren't any brewing issues that should be looked at.  Ask for more details about our Free Check 'n Go Service.
Customer Care
In everything that we do as a service center, we keep your needs as a customer in mind always. We understand how servicing your vehicle can be a stressful task, so we do everything possible to put your mind at ease.
We have the latest technology and the experts to do the job right, and with more than 30 bays we'll get the job done as quickly as possible.
When you're ready, call ahead to make a reservation - the toll-free number is 1 888-903-4743 or you can use our online form to request one. Either way we're here for all your service needs.