Getting your car ready for summer
Posted on August 14, 2020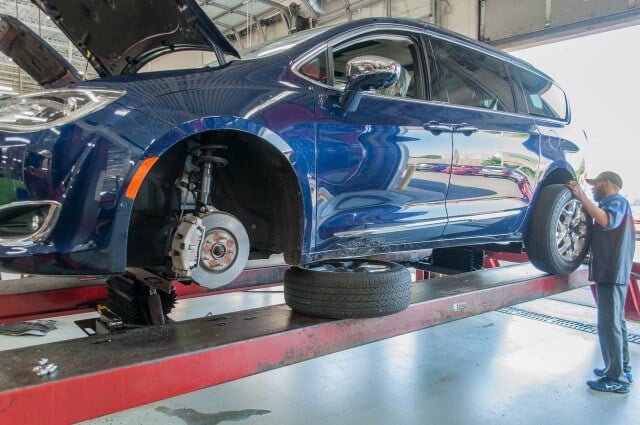 It's common for service centres to advertise special offers encouraging people to come in and have their vehicle checked over before the winter weather sets in. However, it's not really the same in the reverse sense and we hear a lot less about preparing your car for summer once winter is on the way out. So, here are six car care tips to form part of what should be your summer car care routine for getting ready for the better weather.
Examine tires
There probably isn't another part on a car that's as important as tires are, or an area subjected to as much wear and tear either for that matter. Begin by ensuring you have the right tires for the time of year. If you have a set of winter tires on during the bad weather, as you always should, they need to get swapped for summer or all-weather rubber once better weather is on the way. Whether you have to swap tires or not, check for wear and closely examine the condition of the tires and replace them if necessary. Be on the lookout for excessive or unusual wear, check the depth of the tread, and examine every tire for signs of bubbles in the sidewalls. And whatever you do, remember to check the spare in the trunk too.
Brakes
Your vehicle's brakes need to be ready for taking considerably more abuse than they may have experienced in winter. Brake pads can deteriorate over winter due to the extremes of temperature and freezing and thawing of moisture. Check them out yourself if you're sure what you're doing, but you might want a professional with the skills to remove the pads to inspect them properly if you're not up to the task yourself.
Spring clean in and out
Even if your vehicle looks acceptable, after the salt, dirt and filth that will have covered it during winter it needs a thorough clean. A proper wash and wax will help look after the paint and body work, but the underside is where attention is really needed. Salt and other nasties need washing away before they do their worst to your car, and it's also easier to spot leaks or ageing parts if you can actually see them.
Give your windows a treat
It's mostly the inside of the glass that needs attention after winter. Your inner windshield will probably have been smudged and smeared when the defroster didn't do its job fast enough, and hands or even a cloth were probably used to clear an area to see out of. A dirty film is then left when the window dries that can make seeing out harder than it should be, especially in summer sunshine. Use a cleaning solution especially for glass and a cloth, give the inside of your windows a treat, and you might just be amazed at what a difference it can make.
Fluids
After winter and going into summer, summer is an especially good time to check your vehicle's fluids. Engine oil and windshield washer reservoirs should be checked regularly anyway, but don't forget engine coolant, brake fluid, power-steering fluid and transmission fluid too. Unless you're comfortable with checking these, get a professional to have a look for you.
Still got the power?
Last but not least, your battery will have worked hard during the winter powering the lights, heater, heated seats and other things, so it's a good idea to make sure it's still in top shape. Check the contacts for oxidization and remove if there's a lot there to ensure a clean contact, but you can also get it checked by a professional to make sure it's still up to the job.
Some of you will be confident in carrying out all of this without professional help, but if you do need assistance your North York Chrysler service centre is here to help so don't hesitate to get in touch with us at North York Chrysler today.