North York & Caledon Chrysler's Charity Event 2018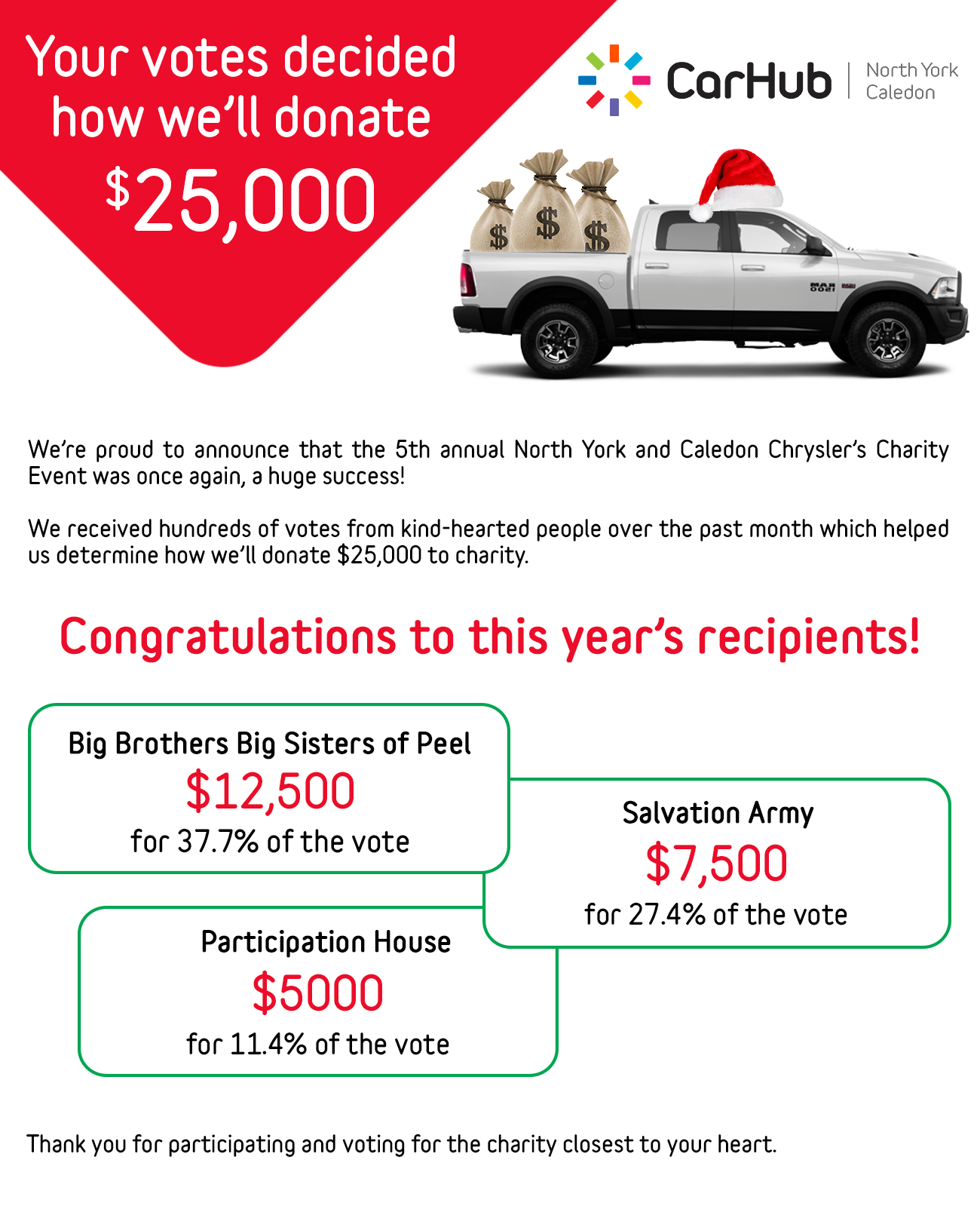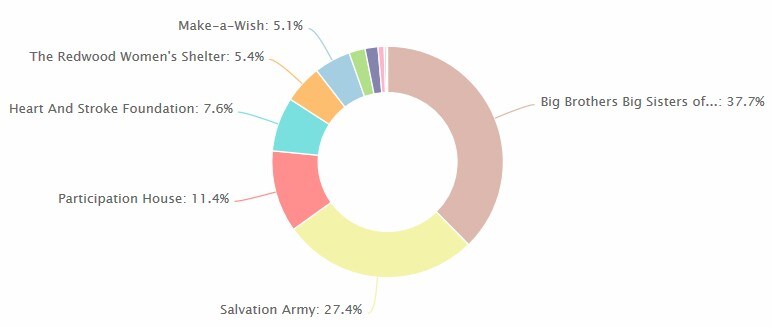 FULL LIST OF CHARITIES PARTICIPATING IN 2018
In order of highest votes:
BIG BROTHERS BIG SISTERS OF PEEL - Making a positive difference in the lives of our youth by providing mentoring programs. 
SALVATION ARMY - Providing Canadians living in poverty food, shelter and clothing to support them at their time of need.  
PARTICIPATION HOUSE, MARKHAM - Enhancing the quality of life of individuals with disabilities through services designed to reflect individualized approaches, community involvement and a respect for human dignity. 
HEART AND STROKE FOUNDATION - Provides heart-healthy information to Canadians and funds research into heart and stroke disease prevention and treatments.
THE REDWOOD WOMEN'S SHELTER- Full service shelter, offering refuge, counselling for women and children, support for women to get jobs and more. 
MAKE-A-WISH - Granting magical wishes for children with life-threatening medical conditions to enrich their life experience with hope, strength and joy. 
NORTH YORK HARVEST FOOD BANK- Meeting the food needs of northern Toronto by providing dignified food assistance, education and long-term food solutions. 
CANADIAN CANCER SOCIETY - Continues the fight to eradicate cancer and works to enhance of the quality of life of people living with cancer. 
CALEDON COMMUNITY SERVICES - A multi-service organization that assists community members with everything from youth and senior services to helping job seekers, small business advice, help for new Canadians and more.  
EVERGREEN HOSPICE THORNHILL - Evergreen provides community based supportive services to individuals and their families in Markham, Stouffville and Thornhill, who are living with life-threatening illness or coping with the death of a loved one. 
32 DIVISION COMMUNITY POLICE LIAISON COMMITTEE -  Provides scholarships to students from priority neighbourhoods, funds/resources to assist community events and programs. 
Previous Charity Events
North York & Caledon Chrysler Charity Event 2017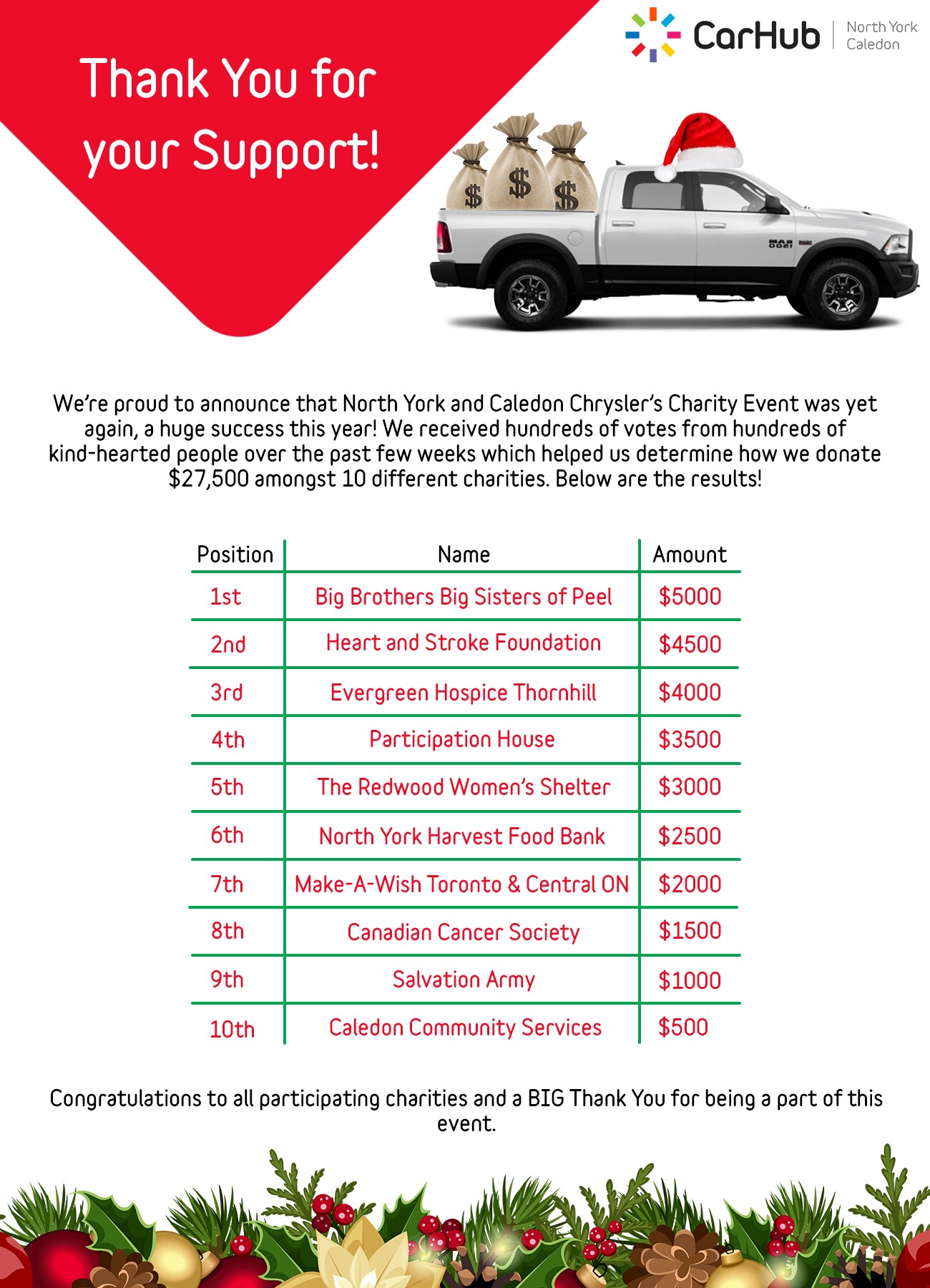 North York & Caledon Chrysler Charity Event 2016