2019 Jeep Cherokee vs 2019 Toyota RAV4
Posted on August 4, 2020
Compact crossover SUVs are big business these days, and the good news for consumers is the intense competition between manufacturers is making them better and better every year. The Toyota RAV4 has been one of the most popular models in its class all around the world for some time now, and the Jeep Cherokee has the benefit of being from a brand that's one of the first names in SUV design and engineering. Let's see how they shape up by putting the 2019 Jeep Cherokee head-to-head with the 2019 Toyota RAV4.
Exterior styling
Jeep has updated the exterior styling of the Cherokee for 2019, and it's now a more cohesive design that's fresh and modern but still very Jeep. It's not a super-macho off-road look, but it's not a soft, feminine design either. It looks a lot like a small Grand Cherokee, and it's a design that will appeal to a wide audience. Toyota has also recently updated the exterior of the RAV4, and this version is definitely more pleasing on the eye than its predecessors. There's more than a hint of Tacoma and 4Runner, which will appeal to a certain buyer, but the Toyota isn't as stylish as the Jeep.
Performance
Both the 2019 Jeep Cherokee and the 2019 Toyota RAV4 are very good on the road, but although the Toyota may look a little more like a true off-roader than the Cherokee, it's the Jeep you want to be in when the tarmac runs out. Jeep has tweaked the Cherokee's springs, dampers, roll bars, and bushings for a smoother ride on the road, but the three different four-wheel-drive systems put it in a different class to the Toyota when it comes to handling the off-road environment. Another advantage the Jeep enjoys is a maximum tow rating of 4,500 pounds (2041 kg), when properly equipped.
Engines
There are two engines for the 2019 Toyota RAV4, which are a 2.5-litre inline-four producing 203 horsepower and 184 lb.-ft. of torque, and a 219 hp hybrid. There's no hybrid for the 2019 Jeep Cherokee, yet, but there are three different gasoline powerplants to choose from. The standard unit is a 180 horsepower 2.4-litre four-cylinder, but the new engine for this year is a much more potent 2.0-litre turbo-four that puts out 270 horsepower and 295 lb.-ft. of torque. Those who prefer a V-6 have a 3.2-litre V-6 to go for, but the smart choice now looks like that excellent turbo-four and it has more power than anything the Toyota can offer.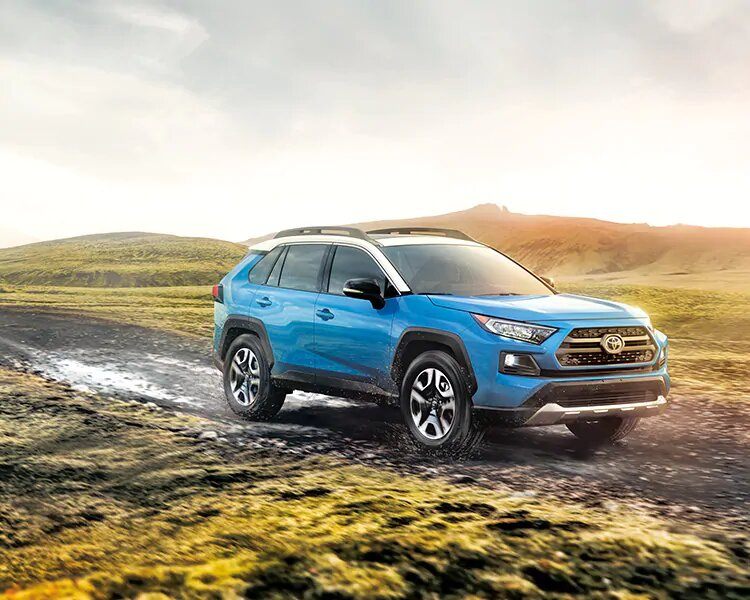 Trim levels
Although the RAV4 is divided into standard and RAV4 Hybrid models, there are only four different trim levels of LE, XLE, Trail and Limited. The 2019 Jeep Cherokee is available in eight different models of Sport, North, Altitude, Limited, Trailhawk, High Altitude, Trailhawk Elite, and Overland.
Prices
These are not luxury compact crossovers, so prices are reasonable. However, although the 2019 Toyota RAV4 starts from as little as $27,990*, the 2019 Jeep Cherokee is even more affordable because it starts from just $27,021.**
Verdict
The Toyota RAV4 is one of the biggest-selling models in this class, but the 2019 Jeep Cherokee is more affordable, more stylish, more powerful, and much more capable when you want to go off-road.
For more details and to test drive the 2019 Jeep Cherokee for yourself, don't hesitate to get in touch with us today here at North York Chrysler Jeep Dodge, the number one Jeep dealer here in Thornhill, ON.
*MSRP of $27,990 is for the 2019 Toyota RAV4 FWD LE. Models shown are: 2019 Toyota RAV4 AWD LIMITED, starting from MSRP of $40,690; 2019 Toyota RAV4 HYBRID AWD XLE with XSE, starting from MSRP of $38,390; 2019 Toyota RAV4 AWD TRAIL, starting from MSRP of $38,690. MSRP does not include Freight & PDI of $1,815, Air Conditioning Charge of $100, license, insurance, registration, applicable taxes, levies and Fees. Dealer may sell for less. Your local dealer may charge additional fees.
**"Starting at" price represents the Manufacturer's Suggested Retail Price (MSRP) for the base model minus Total Discounts (where applicable). Price does not include taxes, freight (from $1,895 to $2,595), insurance, registration, licence, A/C charge, retailer administration fees and other charges, and new tire duties (in Quebec). Model shown may be an upgraded model. Total Discounts may vary from time to time and may vary considerably by model and trim. Total Discounts include Consumer Cash Discounts, which are applied before taxes, and/or Bonus Cash Discounts, which are applied after taxes. Retailers may sell for less. See your retailer for complete details.