Styling
A generation or two ago, the Jeep Grand Cherokee would have scored a straight slam dunk over any Hyundai rival in this important area. Today's Hyundai Santa Fe in both its Santa Fe Sport and Santa Fe XL guises is a much more attractive vehicle than it once was, but the current Jeep Grand Cherokee has to be one of the most stylish vehicles in its class. There's a great balance between the modern and the traditional with the way the Grand Cherokee looks these days, and there's no hiding the fact the Jeep flagship is now getting very close to being a true luxury offering.
The Santa Fe of today is hugely more stylish, attractive and desirable than any of its predecessors, but it still falls just short of the sensational Jeep. There's nothing wrong with the way the Hyundai looks, it's just that it doesn't really provoke any type of emotional response when you see one. The Jeep does though, and that's why it takes the early victory here.
Performance
For a start, all versions of the 2018 Jeep Grand Cherokee are four-wheel drive, which definitely isn't the case with the Santa Fe. The standard powerplant in the Jeep is a 3.6-litre Pentastar V-6 that develops a more than reasonable 295 horsepower. If that's not enough there's also a 5.7-litre Hemi V-8 with 360 horsepower, a 6.4-litre V-8 producing 475 horsepower, and even a supercharged 6.2-litre Hemi V-8 with an almost mind-blowing 707 horsepower.
Although the Hyundai Santa Fe XL comes with a very useful 3.3-litre V-6 that puts out 290 horsepower, that's as far as it goes. There's no option to upgrade to something more exciting, so when it comes to performance the Hyundai can't hold a candle to the mighty Grand Cherokee.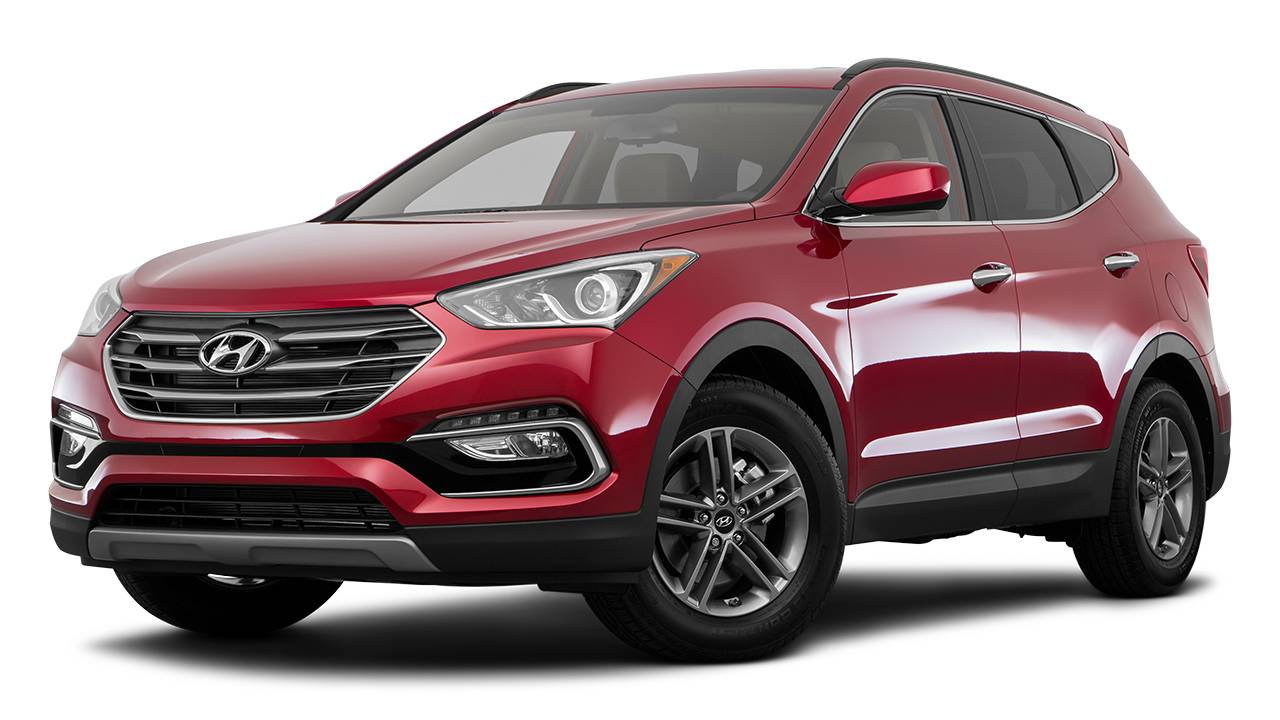 Interior
Jeep has chosen to stick with two rows of seating inside the cabin of the Grand Cherokee, and that could be a bit of a problem for some buyers. The Santa Fe is a three-row model, so it has an obvious advantage for anyone who needs to carry more than five passengers. The Hyundai's interior styling and quality is also improved beyond all recognition from its earlier incarnations, but it's not quite up to the standards set in this area by the Jeep. There certainly isn't anything like as much space inside the cabin of the Jeep as there is in the Santa Fe XL, but we have to keep in mind they do fall into different size categories. An entry level Santa Fe XL costs from $32,199, but Jeep does ask from $38,895 for a Grand Cherokee Laredo. But that extra money is well justified as there's a thoroughly upscale feel to the design, trim and materials inside the Jeep. The Hyundai has a very nice interior, but the Jeep is now starting to border on the kind of quality we expect from luxury German rivals.
To find out for yourself why the 2018 Jeep Grand Cherokee is a better vehicle than the 2018 Hyundai Santa Fe, don't hesitate to get in touch with us here at North York Chrysler to schedule a test drive.