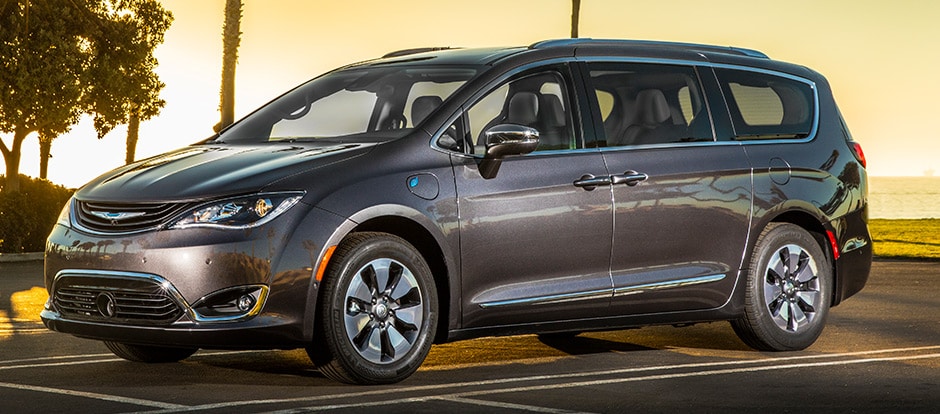 Learn about the Pacifica through these articles and check out the photos below.
At North York Chrysler, we work hard to offer our customers affordable, high-performance vehicles that are also environmentally friendly. A perfect example of this commitment to customer satisfaction and efficiency is the 2017 Chrysler Pacifica Hybrid. Our sales and service experts thought it would be the perfect time to tell you more about this fuel-efficient, family minivan, as well as the Electric Vehicle Incentive Program (EVIP) that can make ownership of a hybrid or all-electric vehicle easier for all Canadians. 
Read more >
Family matters. Parents everywhere are making choices that will impact their children's lives for years to come. While sleepless nights can be enough to distract from the daily pleasures of a young one's firsts, not every decision should keep you up at night. For example, when it comes to comfortable, safe and practical family transportation, Chrysler's all-new Pacifica minivan is the clear choice for a new generation of moms and dads. 
Read more >
When the Chrysler Pacifica disappeared from the market a few years ago, there were a lot of disappointed car fans to say the least. The all-new 2017 Chrysler Pacifica has taken the entire automotive world by storm. It is designed to be one of the most revolutionary minivans to ever hit the market. Automotive journalists from across Canada have raved about the new Pacifica's head-turning styling and inspiring performance. The trims include the base Touring-L, the mid-level Touring L Plus, and the top-of-the-line Limited. Here's a rundown of what the all-new Chrysler Pacifica brings to the table. 
Read more >
Finding the right minivan for you and your family can be an overwhelming experience. The list of "must-have" features can get rather long. You want a safe vehicle that is reliable, fuel-efficient, and comfortable. Since most minivans offer these basics, the search then comes down to higher levels of performance and connectivity. We thought that it would help if we took a closer look at two of the leading minivans available today, the 2017 Chrysler Pacifica and the 2016 Kia Sedona. 
Read more >
In our last blog, we took a quick look at the new 2017 Chrysler Pacifica Hybrid and also covered how you could save by utilizing Ontario's EVIP rebate program. This time around, we thought it would be interesting to a more exhaustive in-depth look at the world's first hybrid minivan. Since out customers love learning about everything they can about our selection of new or pre-owned vehicles, it is only fair to go through the 2017 Chrysler Pacifica in better detail.   
Read more >